Skokie, IL & Houston, TX – September 21, 2021 – Elmdale Partners ("Elmdale" or the "Company"), a leading integrated B2C residential real estate platform, announced today that it has secured a strategic growth investment led by Stellus Capital Management, LLC and its affiliates ("Stellus"). LBC Small Cap SBIC, LP ("LBC") and Jones Capital also participated in the financing round. With this investment, Elmdale intends to continue its growth in new markets, pursue M&A opportunities, invest in technology upgrades to support its network of independent agents, and refinance existing debt. Elmdale has recently been recognized as one of Chicagoland's 50 fastest growing companies and as one of Chicagoland's largest privately held companies by Crain's Chicago Business.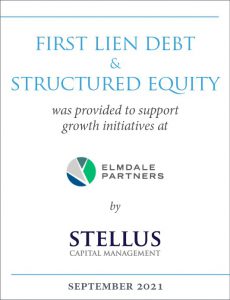 Founded in 2010, Elmdale offers residential property brokerage, title & settlement, and property & casualty insurance brokerage services to home buyers and sellers. Elmdale also operates one of the largest CENTURY 21 network franchises, with 45 branded offices across Illinois, Indiana, and Florida. This new partnership combines Elmdale's deep industry expertise, uniquely integrated platform, and growth-oriented culture with Stellus' successful track record of supporting lower middle market businesses during key periods of growth. In addition to benefitting from housing market tailwinds, Elmdale is also well positioned to capitalize on a substantial market opportunity through acquiring additional real estate brokerage offices and continuing to offer high quality title & settlement services and property & casualty insurance brokerage services.
"We founded Elmdale with a vision of creating a market leader in real estate services," said Thomas Bretz, CEO and co-founder of Elmdale. "Over a decade later, we remain focused on that vision – striving to build an integrated platform that facilitates simplicity in the homebuying process. In offering several services under one consolidated banner, we are seeking to provide our agents and their clients with the tools to complete transactions quickly, efficiently, and accurately. We believe there is a significant opportunity to expand our operations and services via thoughtful M&A and infrastructure investments, and we are very excited to be partnering with the Stellus team to benefit from their expertise in those areas."
Robert Collins, Managing Director at Stellus, added, "We have been thoroughly impressed by the Elmdale team's deep industry and market knowledge, unique approach to growth, and winning culture. We are excited to partner with Elmdale and help support its growth by providing capital and contributing our experience working with leading middle market businesses."
Don Rice, Partner at LBC Small Cap, remarked, "We are very excited to partner with Stellus, long-time friends of ours, to back this outstanding management team in their endeavor to continue growing this business."
Tom Caughlin, President at Jones Capital, added, "The Elmdale team's values and culture align favorably with our own, and their industry expertise and demonstrated ability to grow have positioned Elmdale for future success. The Stellus team did a great job bringing this transaction to close, and we are excited to work alongside them on this opportunity."
"The Elmdale team prove that, in today's "experiences economy", entrepreneurs who lead with innovation and a growth-oriented mindset will expand operations because they succeed at delivering the very best services to their clients," said Michael Miedler, president and CEO of CENTURY 21 Real Estate. "We're proud to have them aligned with us at CENTURY 21 as together we go above and beyond to provide memorable moments and personalized outcomes throughout every step of the client relationship."
GLC Advisors & Co., LLC served as the exclusive financial advisor to Elmdale Partners. Kona Advisors, LLC provided consulting advisory to Elmdale Partners.
About Elmdale:
Founded in 2010 by Thomas Bretz and Adam Freeman, Elmdale offers residential property brokerage, title & settlement, and property & casualty insurance brokerage services to home buyers and sellers. Elmdale also operates one of the largest CENTURY 21 network franchises, with 45 branded offices across Illinois, Indiana, and Florida. Thomas and Adam have over 30 years of experience in real estate investing, fundraising, private equity, and investment banking, and have successfully deployed over $500 million on behalf of themselves and investors in real estate projects. Learn more at https://www.elmdalepartners.com/.
About Stellus:
Stellus was founded in 2012 and formed in conjunction with the spin-out of the Direct Capital Unit of the D. E. Shaw group. Stellus' senior team helped create the Direct Capital Unit in 2004 and has been investing together in the middle market for over 17 years. Since 2004, the Stellus team has deployed over $8 billion into more than 350 middle market companies, developing a broad and deep expertise in this segment of the private investing market. Stellus currently has approximately $2.1 billion in assets under management, with offices in Houston, TX, Washington, D.C., and Charlotte, NC. Learn more at https://www.stelluscapital.com/.
About LBC:
LBC Credit Partners provides middle market and small-cap financing solutions supporting sponsored and non-sponsored transactions throughout the U.S. across a broad range of industries. With over $3 billion of capital commitments, LBC has provided in excess of $8.2 billion to over 279 issuers throughout its 17-year history (as of March 31, 2021). The LBC Small Cap strategy is focused on originating, executing, and managing senior secured, unitranche, junior debt, structured equity, and equity co-investments in U.S.-based lower middle market companies. Learn more at https://www.lbccredit.com.
About Jones Capital:
Founded in 2018, Jones Capital is a provider of private capital to a diverse group of middle-market businesses that share its common core values and its vision for long-term, sustainable growth. Jones creates enduring partnerships with entrepreneurs and management teams by providing a stable yet flexible capital base, ensuring stakeholder alignment, creating active, value-added engagement between Jones and its portfolio companies, and by living, and being accountable to, its Core Values. Learn more at https://www.jones.com.
About CENTURY 21:
The CENTURY 21 System is comprised of approximately 7,400 independently owned and operated franchise real estate offices in 78 countries and territories worldwide, with more than 111,000 independent sales professionals. CENTURY 21 Real Estate LLC is a subsidiary of Realogy Holdings Corp. (NYSE: RLGY), a global leader in real estate franchising and provider of real estate brokerage, relocation and settlement services. Learn more at https://www.century21.com/about-us/.